TEXPO 2019: Corporate Practitioner Drive
Thank you for the continued support of the annual TEXPO conference!
TEXPO 2019: The Future is Now!
When and Where: April 7-9, 2019 at The Woodlands Waterway Marriott Hotel & Convention Center in The Woodlands, TX.
We believe a successful conference is solidified by healthy attendance from both corporate practitioners and our banking partners. We also recognize that banking partners visit multiple clients daily who may not be aware of the annual TEXPO Conference. The fact is; everyone wins with a greater number of corporate practitioner attendees. As such, we are giving away a premium exhibit booth space (located next to our featured attraction; A Real DeLorean!) The firm which registers the most corporate practitioners for TEXPO 2019 will win!
Here is how YOU can help your firm WIN!
All you have to do is, simply invite corporate practitioners and when they register for TEXPO 2019, you could win. When they visit https://texpoconference.org/texpo-events/ and register, they must list your firm in the referral section. It's that simple! The more corporate practitioners registered with your firm listed as a referral, the greater your chance to Win. The firm with the most corporate practitioners registered WINs!
Top referral firms – TEXPO promoter
Want to offer an incentive to your clients and be a great TEXPO promoter?
The Houston Treasury Management Association has you covered. For firms that have at least 3 corporate practitioners enter with a referral, will be given a $25 Starbucks card. Firms with over 10 will win 2 – $25 gift cards. You can use these as you wish but we would recommend using them in a drawing.
Don't miss out on this great opportunity to boost corporate practitioner attendance and to win a FREE premium booth space at TEXPO 2019 that everyone will be talking about.
The winning firm will be announced by March 15, 2019. For additional details please contact: Jonathan Blaker, TEXPO 2019 Co-Chair,  Email: jblaker@epicenter.org, Tel: 713.353.2134
Need help getting this in front of your clients?
Here are some email template ideas to encourage your clients to register and remind them to list your firm as the referral;
Help your favorite firm ____(firm name)___ by including US in the referral section when you register for TEXPO 2019: The Future is Now! Click here to register.
When and Where: April 7-9, 2019 at The Woodlands Waterway Marriott Hotel & Convention Center in The Woodlands, TX.
The 2019 TEXPO Conference is taking it Back to the Future with a theme of "The Future is Now!". The conference will be here before you know it! Register today at Discounted pricing, and don't forget to list ____(firm name)___ in the referral section when you do. Pricing goes up after February 20th, 2019, so save now by registering early, and don't miss out on one of the leading financial management and treasury conferences' in the nation! TEXPO 2019: The Future is Now! will be held in the Woodlands, TX April 7-9, 2019. Visit https://texpoconference.org/texpo-events/ to register and join us there!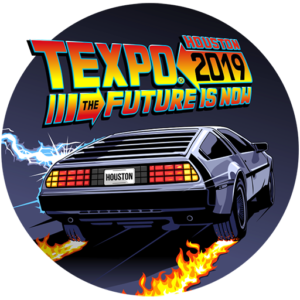 TEXPO® is a Financial Management conference sponsored by The Alliance of Texas Treasury Associations (ATTA), a non-profit organization that brings together five regional Treasury associations – Austin, Dallas, Fort Worth, Houston and San Antonio. ATTA is dedicated to improving financial management through education and communication. TEXPO provides CTP, CPE, and FP&A credits, along with required credits for the Government Treasurers Organization of Texas (GTOT).