Fostering Growth in San Antonio's Tech Community By Being a Teammate, Storyteller & Cat Lover
Thursday Keynote – Session 8 – 11:30am – 12:30pm
Lorenzo Gomez III has served as CEO of Geekdom, Texas' largest co-working space, and is co-founder of The 80/20 Foundation, a philanthropic organization dedicated to investing in the future of San Antonio.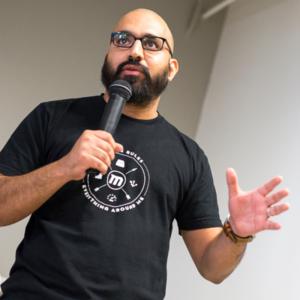 Lorenzo went from the stockroom of a grocery store to the boardrooms of two private companies without a formal higher education. In his inspiring and humorous true story of hope and accomplishment, he shares the steps he took up the ladder and the guiding principles that got him to the top.
Despite having little college experience, he used valuable lessons from his entry-level jobs to catapult himself into high-impact positions. At the managed-cloud provider, Rackspace, he worked closely with co-founder Graham Weston.
Prior to 2017, Lorenzo was tasked with converting a dying downtown sector into an attractive tech district. He recruited startups, evaluated competitive co-working spaces, convinced civic and government leaders to support tech companies considering relocation and asked academic institutions to supply talent.
Lorenzo's driving passion is his love for his city, San Antonio. His goal is to enable others to see the vision and help advance the seventh largest city in the United States into a world-class center for startups, especially in the tech industry.
Toward that end, Lorenzo collaborates with a network of professionals to fortify growth of the tech district in downtown San Antonio. He is a co-founder of Techbloc and serves as board member, advisor, and mentor for a variety of local and national tech and entrepreneurial endeavors.